An Indian-origin Tamil stand-up comedian, singer, yoga instructor, musician and actor popularly known as 'Alexander Babu' recently performed his comedy show in Dubai.
The stand-up comedian's official Twitter handle thanked Dubai's audience by adding, "What a night, Dubai Chellams! Lapping up for every little thing, you made Saturday's ALEXPERIENCE the longest (3hrs 15 mins and the funniest run so far! Thank you, guys!
Shout out to HobNob's Deepak and Benaas and the whole gang for the hard work; my home team Sowpernika Ananthanarayanan, Sumitha Alex and show day director Roy Naveen for the tireless efforts over many weeks to get everything right! First international show of #ALEXPERIENCE done in style!"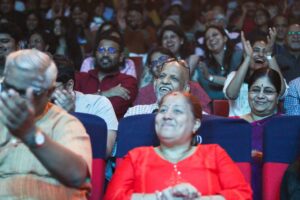 Young Indian-origin comedian Alexander Babu left his corporate job as a software engineer to focus on stand-up comedy and theatre shows. In an update shared by the comedian added, "Alexperience heads next to KUALA LUMPUR this Sunday! The last bunch of seats are moving now. Please tag your KL chellams! Bookings through the official website of Alexander Babu ."
Alexander Babu's other upcoming shows around the corner are the following:-
Chennai on November 27, 2022

Madurai on December 03, 2022 

Colombo on January 07, 2023 

Singapore on January 21, 2023 

USA/CA in the upcoming months of February, March and April (planning)
As per the sources, the shows going to be held across the globe are almost fully booked by the fans.