Founder and owner of the world-famous brand 'Kayali', Mona Kattan, recently shared that she can't believe it's been two weeks since 'the 11th Vanilla Royale' of Kayali fragrance was launched.
While adding the update, Mona Kattan also shared that she is happy that she could not think of a better location than the magnificent and iconic Burj Al Arab Jumeriah.
Mona Kattan hosted a star-studded party at the iconic Burj Al Arab Jumeriah on the grand launch of "Vanilla Royale".
Recently Mona Kattan shared a video clip on her official Twitter account announcing the launch of the 11th Vanilla Royale Sugared Patchouli 64 of the world-famous fragrance brand 'Kayali'.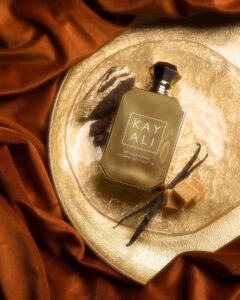 Makeup sensation Mona Kattan looked stunning wearing a black and gold studded dress paired with a bronzey and glittery eye makeup look.
Mona, during the video, said that the launch of this fragrance was quite stressful for her team as the scent was leaked multiple times.
Retailers sold the new Kayali fragrance months before the launch of the 11th Vanilla Royale Sugared Patchouli 64.
Mona said this was very stressful because, as a brand, the team tries to put together exciting plans to build momentum to attract people to the new launch.
Leaking of the brand's recent launch was a rollercoaster ride for the whole Kayali team, as it was terrifying to see everything getting shattered, said Mona.
Mona thanked her social media family and everyone who reached out to support the brand and message them fabulous messages the team needed to keep the most.
Mother of the brand Kayali said that she is hoping everyone will love this newly launched juice and the
the fragrance will deliver the peace and love the team has put into it.
While sharing the video clip on her Twitter handle, Mona shared a caption, "I'm so happy we have finally
launched our 11th Vanilla Royale. As some of you might have noticed, our fragrance was leaked before the launch! A HUGE thank you to our INCREDIBLE community for helping us keep our launch a secret. It means THE WORLD!".