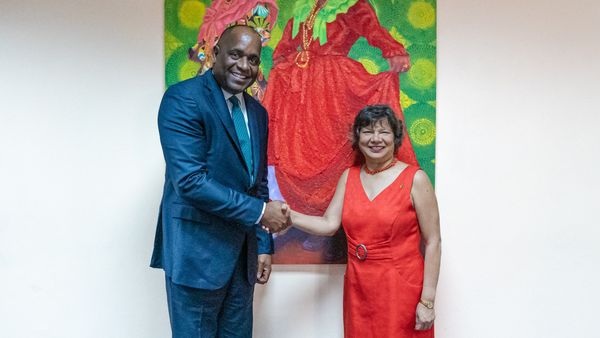 Dominica: The Prime Minister of the Commonwealth of Dominica, Dr Roosevelt Skerrit, has recently shared an update regarding the visit of the High Commissioner of Canada to Dominica, Lilian Chatterjee. He addressed the visit of Lilian Chatterjee as an essential friendly visit to strengthen the diplomatic ties between both countries.
To share the piece of information, Prime Minister of the Caribbean Island, Roosevelt Skerrit, took to his official social medial handle to express his immense gratitude and happiness following the call with the high commissioner of Canada to Dominica. 
The meeting held a number of detailed discussions over various aspects and common concerns which relates to both Canada and the Commonwealth of Dominica together. 
While mentioning the significance and importance of the mutual diplomatic relations between both nations, PM Skerrit extended his warm wishes and thankfulness to Commissioner Lilian Chatterjee for her continuous support and for being a bridge between the countries. 
Meanwhile, he extended his greeting to the High Commissioner, Chatterjee, through his official Facebook account, where he noted, "I received a courtesy call earlier today from the High Commissioner of Canada to the Commonwealth of Dominica."
Furthermore, he also extended his remarks and shed light on the essential subject of the courtesy call between him and Commissioner Chatterjee. He cited in the caption, "We discussed areas of cooperation and mutual interest; and reaffirmed our intention to extend bilateral relations between Canada and Dominica."
As per the social media post by the PM, Minister for Housing and Urban Development Melissa Poponne-Skerrit; and Minister for the Environment, Rural Modernization, Kalinago Upliftment and Constituency Empowerment, Cozier Frederick were in attendance.
Moreover, the reports have also confirmed that Prime Minister Skerrit also shared a few photographs and glimpses from his meeting with Canadian High Commissioner Lilian Chatterjee. It was also conveyed that both countries share a deep, longstanding relationship with each other and have been showing support for each other in common national matters.
It was noteworthy the meeting was mainly focused on enhancing the diplomatic cooperation between Canada and Dominica through various techniques and measures which would benefit both nations in a positive manner. 
During the meeting, both the officials reassured each other to keep working towards the common goal along with improving bilateral ties with one another, said reports.