Canadian University Dubai (CUD) collaborated with Dubai Police at the all-day event hosted at the CUD campus on November 1, 2022.
His Excellency Lieutenant General Abdullah Khalifa Al Marri, Commander-in-Chief of Dubai Police, was welcomed to CUD by Mr Buti Saeed Al Ghandi, CUD's Chancellor – and together with notable dignitaries toured the campus.
CUD students presented and exhibited their nominated projects to Dubai Police.
Authentic artworks were also on display. Dubai Police conveyed several empowering social awareness seminars and campaigns to the CUD student community.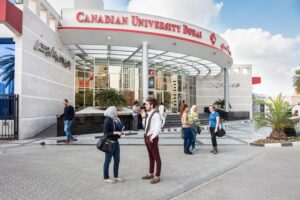 The University campus buzzed with various activities and empowering sessions. It was an honour for CUD to host Dubai Police.