United Arab Emirates (UAE) is set to celebrate its 51st National Day from December 2nd to 3 in full swing. The nation will be enjoying two days off in both the public and private sectors; Dubai Police Recently shared various tips for citizens while celebrating to ensure the security of the citizens.
As per the information shared by the official Facebook page of Dubai police, the force urged citizens to take care of themselves while celebrating the 51st National Day.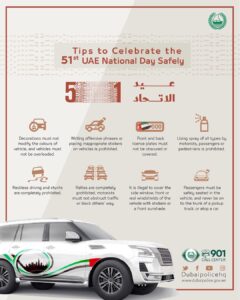 While sharing a few tips, the force added:-
Dubai Police shared various tips to celebrate the 51st UAE National Day with the utmost safety and security.
The Dubai Police force urged that the citizens should not modify vehicle colours, and vehicles such as cars must not be overloaded.
Dubai Police has strictly warned citizens to not to write offensive or harmony-affecting phrases or place inappropriate stickers on vehicles is prohibited by the Police to maintain peace and harmony during the celebration.
 For people participating in the celebration of the 51st National Day, As per the information shared by the Dubai Police front and back of licence plates must not be covered by the Dubai residents.
Prohibition of using spray
Dubai Police has also stepped forward to prohibit the usage of the spray of all types by motorists, passengers or pedestrians.
The Dubai Police Force completely prohibits reckless driving and stunts.
Rallies are entirely prohibited, and motorists must not obstruct traffic or block others' way.
Covering the side window is prohibited as per the information shared by Dubai Police, front or rear windshields of the vehicle with stickers or a front sunshade. Passengers must be safely seated in the car and never be out of the car and driving rashly; getting atop the vehicle is also prohibited.
Dubai Police has been working days and nights to provide a safe and secure environment for citizens across the city.