Middle-East-based Travel vlogger and blogger Overland Vagabond is known for their amazing content on social media.
Overland Vagabond recently shared an experience of visiting the small Middle Eastern town Jebel Akhdar in Oman.
While sharing mesmerising pictures of visiting to Jebel Akhdar, Oman, the travelling-oriented Facebook page shared caption wording:-
Before leaving Salalah, we have to visit the Museum of the Frankincense Land, which stands on the grounds of the Al Baleed Archeological Park, a Unesco WHS. It's a small museum with a Nautical and an Archeological room – our hope to better understand how incense is made was only fulfilled once we spoke to the lady selling goods at the nearby shop.
.
The further coastline south offers the best beaches of Oman, which are clean, empty and picturesque. We, however, camp on the overlooking hills with the company of a Pakistani shepherd.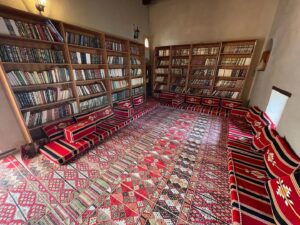 The next few days, it's all about the Rub al-Khali, also called the Empty Quarter, the 3rd largest sand desert. We're obviously on the Omani side; later on our journey, we shall attempt to visit also the Emirates and Saudi side of this huge area. The terrain is covered with dunes with heights up to 250 meters, interspersed with gravel and gypsum plains. The sand is reddish-orange due to the presence of feldspar.
.
As the name says, the Empty Quarter is pretty empty, with lots of dunes, of course, which to us have their own charm. We drive roughly 500 km of corrugated tracks, and apart from a few cuts in the tires' sidewalls, the vehicle performed flawlessly. Being 'solos', we couldn't attempt too much of the dunes, but in the end, we were glad to hit the tarmac road.
Recently "Overland Vagabond" shared the experience of visiting a small Middle-Eastern town of Oman known as Ibri.