Hels on Wheels, the famous local traveller, vlogger and hobo cyclist, shares another experience of travelling to Abu Dhabi on her 272nd day of cycling.
Per the information shared by the vlogger on her official Facebook account, she cycled for 83km (68587 km). While sharing her experience, she wrote:-
What a fantastic free campsite! My rush across Abu Dhabi was off to a good start. But was about to come to a crashing halt.
Initially, the road was pleasant, past a festival hall surrounded by hundreds of Emirati flags, then a very unpleasant highway into Abu Dhabi. Once over the bridge and onto the island, I could finally exit onto regular roads.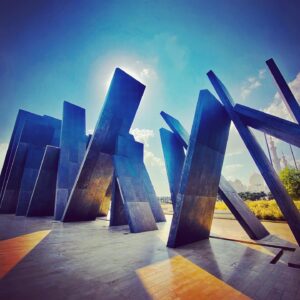 And here, my problems began. I noticed my passport had yet to be stamped in UAE. Since it was stamped last time I was here, I considered this a mistake – they'd been very distracted by the bicycle – but a trip to the police assured me it would be fine…
Secondly, I've filled out my Saudi visa form incorrectly; in the field which requests middle name OR father's name I entered my father's name and now have a visa issued to 'Helen Peter Dainty Dainty'.
I've emailed the nice Saudi tourism people to see what is to be done about that.
And finally, and most catastrophically, I received an email to say my Hayya card to enter Qatar has been approved and now I must pay the fee.
Somehow I hadn't considered it wasn't free! Rushing and without thinking, I paid the $200 only to discover my host in Qatar is now no longer able to receive an accommodation code for me, leaving me with the option of cutting my non-refundable losses, to go and trying my luck at the border with a receipt for payment and address at which I'll stay, or to stump up the exorbitant cost of accommodation.
All this without even having a match ticket! I just wanted to experience the atmosphere Before the day went tits up I'd visited one of Abu Dhabi's bottle shops (so weird walking into a room of booze, Christmas songs, tinsel and decorations!) and picked up a delicious Malbec.
I stocked up on chocolate before heading to Abu Dhabi's cycle track to find a sneaky camp. Initially moved on by security and increasingly desperate in the darkness, I found a hidden spot behind some construction, pitched the tent and opened the wine, relieved this miserable and stressful day was over.