Kattan's sister and Co-Founder & Global President of world-famous makeup brand Huda Beauty and Kayali' Mona Kattan' has recently shared a video on her official Youtube channel while sharing her closet tour.
In the Youtube video, Mona Kattan was wearing a stunning glittery black dress with her luxurious collection of clothes and bags in the background.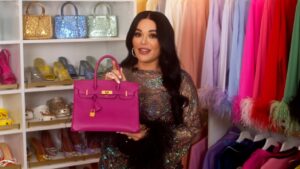 In a Youtube video shared by the mother of the famous fragrance brand Kayali, Mona Kattan shared the fun elements in her closet. The makeup sensation shared her style, favourite outfit, shoes and bag.
Mona Kattan described her style as glamorous, fun and very extra. She added that her favourite handbag is a pink coloured Hermes Berkin; Mona said that she loves this bag because of its beautiful colour, and it was her customized Hermes handbag.
Welcome to my #CLOSET!!! 🤩 I am so excited to share some of my fav #fashion pieces with you!! I actually mostly wear #comfy cozy clothing most of the time but I of course, love being #EXTRA any time I can! 😅❤️
⁰Watch the full video here: https://t.co/QLGr3GCVQT pic.twitter.com/3s1tfUtYzv

— Mona Monica Kattan ✌🏽🤎🧸 (@MonaKattan) December 12, 2022
In her youtube video of her closet tour, Mona Kattan shared that her favourite luxury item is a Louis Vitton boxing gloves because the item was a limited edition and, as per makeup sensation, the gloves look very 'badass'.
Queen of fragrances, in her video, added that her pink Gucci jacket, which she got in 2018 in Los Angeles, holds an amazing memory or adventure as she wore the jacket during the launch of her brand 'Kayali' too.
The most recent purchase of Mona Kattan is a cute little blingy mint green Prada bag along with matching shoes.
The most rare and beautiful piece in the collection of Mona Kattan is a vintage Chanel belt which her designer in the Youtube video wore.
Mona Kattan recently shared a video clip on her official Twitter account announcing the launch of the 11th Vanilla Royale Sugared Patchouli 64 of the world-famous fragrance brand 'Kayali'.
Makeup sensation Mona Kattan looked stunning wearing a black and gold studded dress paired with a bronzey and glittery eye makeup look.
Mona, during the video, said that the launch of this fragrance was quite stressful for her team as the scent was leaked multiple times.
Retailers sold the new Kayali fragrance months before the launch of the 11th Vanilla Royale Sugared Patchouli 64.