A Dubai entrepreneur has been feeding hundreds of people every night during the holy month of Ramadan, along with the help of her family and friends.
Siama Qadar and her team have been volunteering to distribute the meals every day during the holy month outside a mosque in Jebel Ali Industrial Area 1.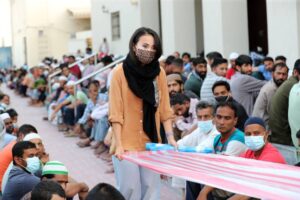 Each one of the meals costs Dh10 ($2.72) and includes a double portion of chicken biryani along with fruit, laban, dates, and water. Last night, 27 April, the team gave out almost 500 Qurans.
The workers really need the meal, and they also appreciate these efforts.
Siama is a British entrepreneur who runs a fashion technology business firm and started the tradition after she came to the UAE from the UK a few years back, in 2014.
She stated, "As a Muslim, we have to provide back as the five pillars of Islam."
"The Muslim community has helped me. It has given me my education and my work. So it is time I need to start giving back."
"The workers really need it, and they appreciate it."
In the start, around 800 individuals would arrive each night to take a meal, but gradually, the number rose to 1300.
The meals are funded by Siama and 20 other family and friends of hers. She has been giving out free meals to workers in Jebel Ali since 2014.
She said, "When I first arrived in Dubai in 2014, it was not Ramadan. It was May, and I used to do distributions in worker accommodation through the back of my car."
"I first began in International City and then moved into Al Quoz but discovered many people were covering Al Quoz, so I explored for other places."
"Jebel Ali Industrial site was a distant place in 2014 that nobody knew of."
Ms Qadar looked for a small caterer and located a tiny kitchen on the border of Sharjah and Al Qusais owned by a worker.
She started distributing iftar meals that year and continued to do so until the Covid-19 arrived in 2020.
After the pandemic, this is the first time the tradition has returned, and she is still working with the same caterer.