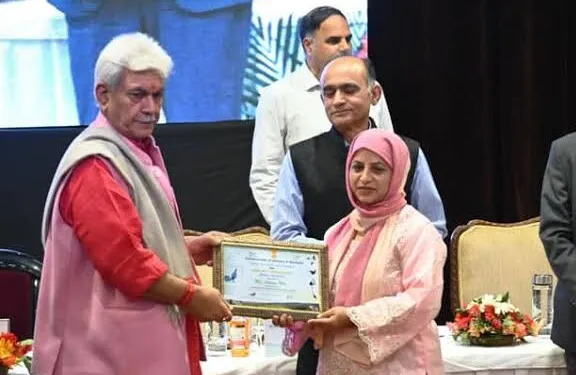 Jammu and Kashmir: Alia Mir from Jammu and Kashmir has been honoured and awarded wildlife conservation awards as she becomes the first woman for her conservation efforts in the region in the Union Territory (UT).
As per the updates, Mir is also recognized as the first woman in Kashmir who works for the charity Wildlife SOS organization as part of the Wildlife Rescue Team. Mir was awarded the Wildlife honour by Lt. Manoj Sinha. She is an eminent sociologist and was honoured during the celebrations of World Forestry Day organized by the Jammu and Kashmir Collective Forests.
In her remarks, Alia Mir stated that she was honoured to get this award and felt very grateful. She noted that she was thrilled following the selection for this honour. She said that she is thankful to all the people who supported her along the way and helped her get to this point.
Furthermore, she was honoured for her accomplishments in different aspects of wildlife conservation, including bear rescue in Kashmir release and rescue of wild animals, along with taking care of injured animals and wildlife.
She is the first woman from Kashmir to be involved in such activities and become a wildlife rescuer who has been performing her duties as Head of an Education System in the Wildlife SOS Program. So far, Alia has rescued many wild animals which include, including Asiatic black bears, birds, and Himalayan brown bears, along with her speciality for catching snakes.
She has rescued snakes from lawns, gardens, corridors, and bus rooms in offices and released them back into the wild safely. Alia made the headlines for her actions when she led the Wildlife SOS team to catch a Levantine viper, the deadliest venomous snake, from the residence of the then chief minister.
The viper that she caught weighed around 2 kg which is the largest biting animal among the group of wild animals.