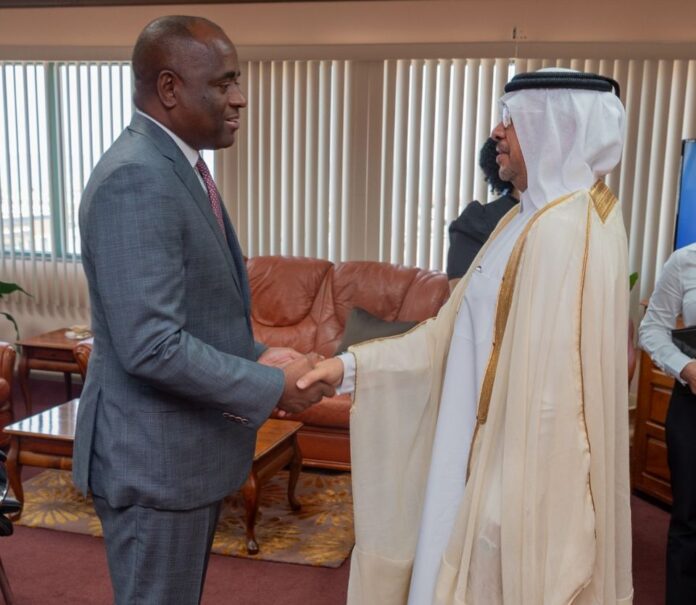 Roseau, Dominica: The Prime Minister of the Commonwealth of Dominica – Dr Roosevelt Skerrit, welcomed the Ambassador of the State of Qatar, Awad Abdullah, to the nature island on Friday, July 14, 2023 (yesterday). Prime Minister expressed immense pleasure while receiving the Ambassador at the Prime Minister's Office in Roseau.
At the beginning of the meeting, PM Skerrit extended his warm greetings to Ambassador Awad Abdullah on his visit to the Commonwealth of Dominica. 
The meeting was aimed at strengthening and enhancing the mutual bilateral relationship between the Caribbean country and the State of Qatar.
As per the shared information, Prime Minister Roosevelt Skerrit took to his official social media handles to share glimpses and updates from his sitting with his Qatari counterpart. While sharing the glimpses, he expressed his profound gratification. 
He noted, "Earlier today, I received a courtesy call from His Excellency Awad Abdullah, Ambassador Extraordinary and Plenipotentiary of the State of Qatar".
In this regard, he also emphasized that the visit of Ambassador Awad Abdullah to the Commonwealth of Dominica reflects the strong and longstanding mutual ties between both nations. 
The meeting held between both leaders further discussed a number of topics and concerns of mutual interests. 
The meeting saw detailed discussions on key public sectors and their enhancements, such as tourism, businesses, education, healthcare etc.
Meanwhile, Prime Minister of the nature island, Roosevelt Skerrit, has also highlighted that the State of Qatar is an integral connection to the Commonwealth of Dominica in many terms. Both the nations stand with each other in every scenario to support one another, said PM Skerrit.
The reports have also confirmed that while welcoming the Qatari Ambassador, Prime Minister wrote, "I welcomed His Excellency to Dominica, and we discussed strengthening bilateral cooperation between our two countries". 
In addition to this, he also outlined that the cooperation and ties between The State of Qatar and Dominica have been a perfect example of the complementary relationship between the two nations.
In the end, Prime Minister Roosevelt Skerrit concluded that the visit of Ambassador Awad Abdullah was considered an important step taken by the sister country towards strengthening bilateral relationships. 
He greeted and hosted the Qatari Ambassador with integrity and respect and extended his heartiest best wishes.