Middle-East-based Travel vlogger and blogger Overland Vagabond is known for their amazing content on social media.
Recently Overland Vagabond shared an experience of visiting the small Middle Eastern town, Ibri, in Oman.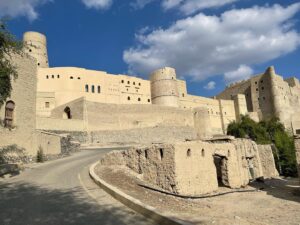 While sharing mesmerizing photos, Overland Vagabond wrote:-
We promised more mountains, castles and wadis – here you go!
.
As a "change", we visit the Jibreen Castle and the Bahla Fort. While the latter is inscribed as a UNESCO WHS and probably the biggest of the Omani castles, we preferred the former, which is like a labyrinth and nicely decorated with carpets and ancient artefacts.
.
Al Hamra is not only a cute name but also a beautiful oasis with palm trees and a picturesque old city centre, partly being renovated. Among the ruins, visiting the three-story mud house Bait Al Safah, a living history museum where locals demonstrate ancient Omani traditions, is possible. We normally would give it a pass, but this one was well-organized and truly interesting.
.
We take another of these steep routes, this time to the Jebel Akhdar area, the destination of Snake Canyon. We were warned about the bad track conditions, and yes, it was dusty and bumpy, but not worse than others we have driven. Sadly, it hasn't rained for quite some time, and the wadis are very dry; we wonder how these would look full of flowing fresh water.
.
Back to the plains to visit the Misfat al Abriyyin, which has an ingenious water irrigation system but is also quite touristy. So up again one last time to the mountains, this time around the Jebel Shams, the highest point in Oman, to enjoy the sunset and sunrise just at the brink of a huge cliff.
.
Our days in Oman are coming to an end; stay tuned if you want to know what's next!