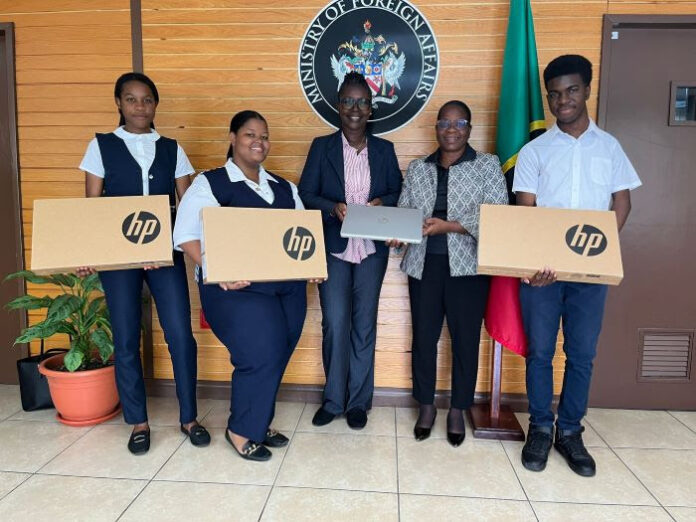 Basseterre, St Kitts and Nevis: The High Commissioner of St Kitts and Nevis to the United Kingdom of Great Britain and Northern Ireland – Dr Kevin Isaac, has donated advanced laptops to the students at the Clearance Fitzroy Bryant College in Basseterre, Twin Island Federation.
On his part, High Commissioner Kevin Isaac extended heartfelt gratitude to Gurdip Dev Bath for donating the laptops during the handing over ceremony held at the Ministry of Foreign Affairs Office on Monday, 22 May 2023.
Meanwhile, HC Isaac further extended his remarks and acknowledged the continuous support provided by Gurdip Bath and expressed sincerest regards to him. He stated that it would be an honour to express his gratefulness to Gurdip Bath publicly for donating the personal computers to the students of Clearance Fitzroy Bryant College.
In this context, he mentioned that the regular support and assistance received by Dev Bath is much appreciated and recognized. 
Furthermore, following the delivery of the advanced laptops, the students from the College have conveyed thankfulness to the High Commissioner, Dr Kevin Isaac, Dev Bath, along with the Government of St Kitts and Nevis.
In addition to this, the students mentioned that the donation would be a valuable addition to the college resources, which will help them in their studies to achieve further accomplishments digitally. 
The High Commissioner of St Kitts and Nevis, Kevin Isaac, had promised to donate the computers during his visit to the institute in April this year.
He assured the students to provide their personal computers and digital equipment with advanced features to help them expand their digital reach by claiming higher educational opportunities.
The government of St Kitts and Nevis has showcased a positive example of extending necessary support to the students of CFBC through the donation of laptops. To assist the youth of the nation in their overall growth in the digital world, the government has been committed to enhancing the education sector through digital advancements.
The donation of laptops is considered a significant contribution which will assist the students in the completion of various tasks such as online assignments, research purposes, students collaborations, and access to global opportunities. 
The faculty of the CFBC and students can also connect with each other during several instances and examinations to gather information and guidance online.
It has been reported that the laptop donation is marked as part of a remarkable development in the education sector of St Kitts and Nevis. This would be used as useful equipment and a resource for the students to achieve significant tasks online during their studies while connecting them to the digital field.